The Discovery Centre offers a variety of programs and events throughout our season – May to October.  Please scroll down to see the the tours and events.
Due to COVID-19, program and tour delivery will be different than usual. We will be offering a variety of self guided options for learning as you head out onto the trail.
We hope to offer some special events that will require preregistration.  Please check back here regularly for details.
Please also visit our Resources page for a variety of activities, links and resources to help you stay connected and active.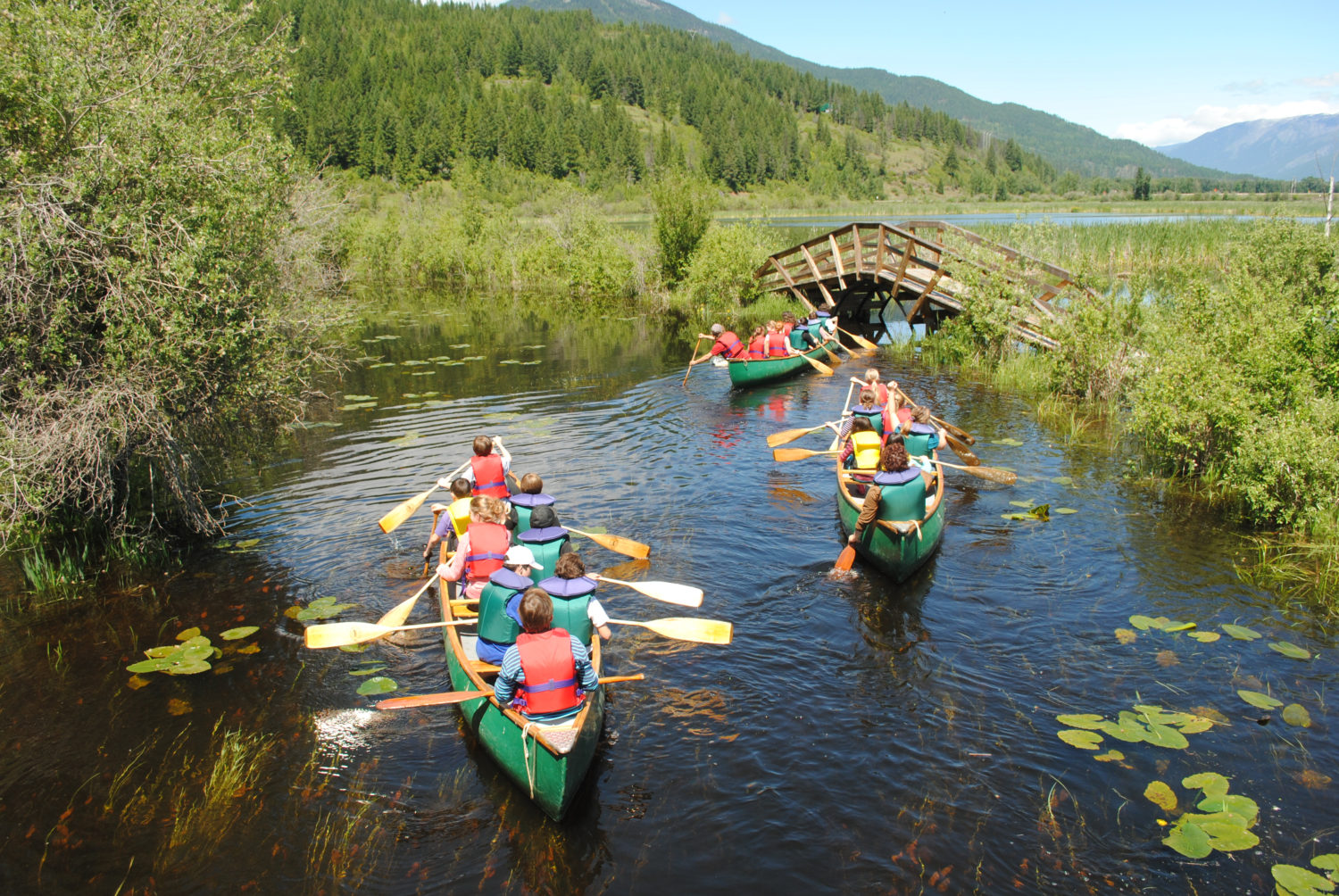 Guided Canoe Tours
Join a Naturalist for a ~1 hour guided canoe tour & experience the sights and sounds of the wetland!  Paddle the ponds and channels in search of wildlife – you never know what you might encounter!
When: Daily when open (until September 3rd)
Departure Times: 9:30am; 11:00am, 1pm and 2:30pm
Cost: $10 adults/seniors; $5 children/students (ages 4-18) ; Free for ages 2-3*
*Children must be at least 2 years old to participate.  Children ages 2-13 must be accompanied by an adult.
To Book:
We recommend pre-registering to guarantee a spot on the tour.  Without a reservation we cannot guarantee that there is a spot available for you, although you can risk it, we do take walk ins!
Health and Safety is a Priority
You will be sitting close to the other participants. Please wear a mask if you like, it is not mandatory (we will not provide masks).  You are welcome to bring your own PFD, but we do have ones that you can use.  Children under 3 must bring their own life jacket.  We will be sanitizing the boats, paddles and life jackets after each tour.  If you have any questions or concerns, please do not hesitate to ask.
Cancellation can occur due to extreme and inclement weather
Walking Tours
Walking tours are created seasonally and can be booked upon request.  Visit or contact us for details!
Please check out our Self-Guided Boardwalk Loop Tour and Self Guided Marsh Trail Loop Tour (Evening) below if you want more information while walking this great trail!
Self Guided BoardWalk Loop Tour
Self Guided Marsh Trail Loop Tour (Evening Walk)
Virtual Boardwalk Loop Tour
The seasonal staff have put together a Virtual BoardWalk Loop Tour. If you can't make it out to our wetland but want to see some of the sights and learn more about the wetland, then you can do so from anywhere on your computer, tablet or phone! Also, when onsite, there are QR Codes that you can scan at various stops so that you can view the videos easily on your device while on the trail.
Click on the pdf link below to open up the map!
Virtual Boardwalk Loop Tour
Special Events
All events take place at the Nature Centre.  Registration is not required unless specified.
Family Funs Days!
We will be hosting FREE family friendly events on certain Saturdays in August and September  Each event will have a theme and corresponding activities. You can drop in anytime between 10am and 3pm.
August 6th – Bug Day!
August 20th – Plant Day
September 3rd – Butterfly Day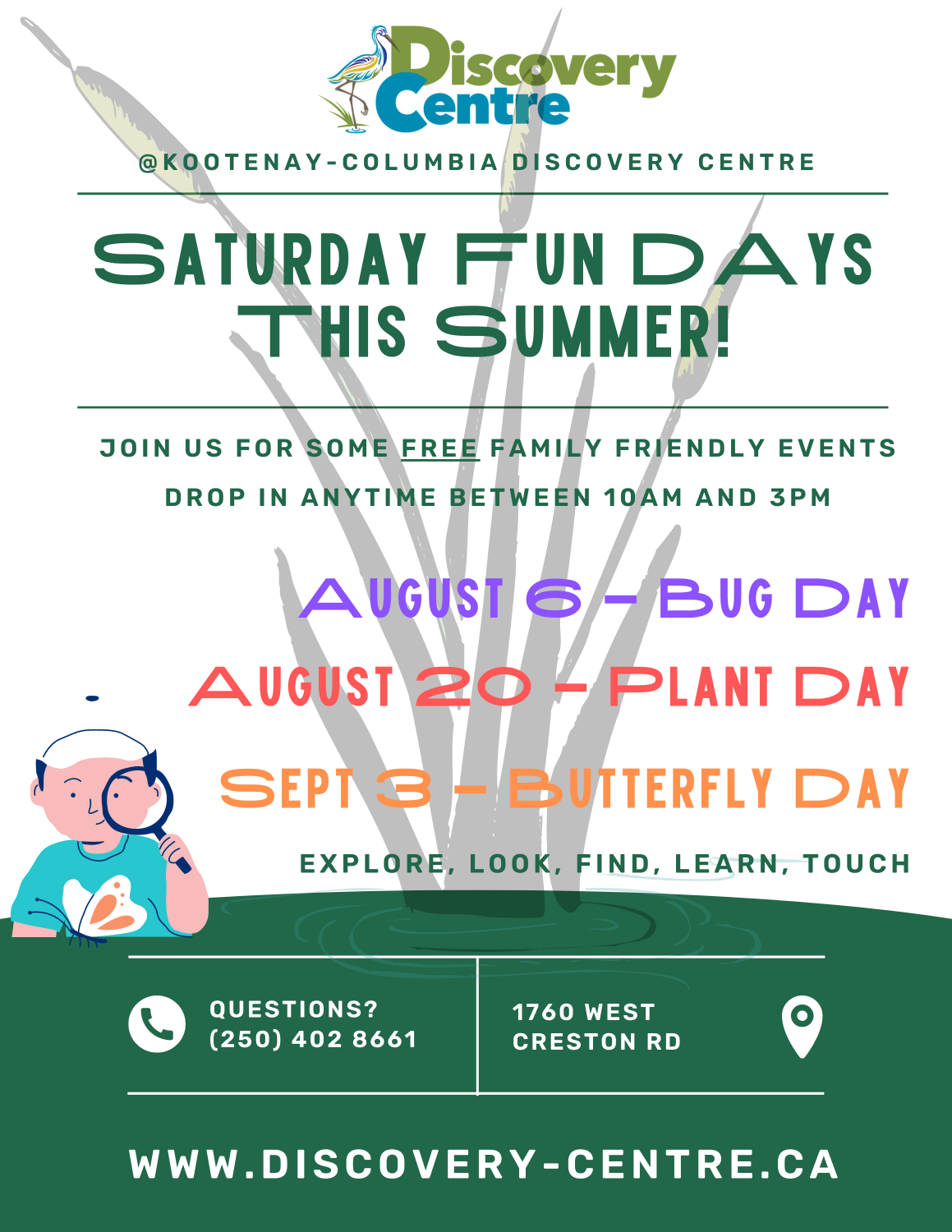 Creston Valley Bird Festival
May 13-15, 2022
Join us for the 10th Annual CV Bird Festival!  To register and find out more information, go to www.crestonvalleybirds.ca
KCDCS is offering guided canoe tours and a Family Bird-a-thon during the festival.  Also on site will be a kite building event.